LONDON—The first protestors began assembling on Portland Place, just outside the BBC's London headquarters, on Friday morning. They carried signs. "FEED HIM TO THE CORGIS," said one. "TANGERINE TYRANT," read another. "BOLLOCKS TO TRUMP." "IKEA HAS BETTER CABINETS." "TRUMP IS A TOSSER." "I HAD TO FIX MY PRINTER FOR THIS."
The people gathering to march in protest of President Trump's U.K. visit had serious intentions, namely to stand up against a leader who's remarkably unpopular in Britain. But that didn't mean the tone was totally somber. As the first march of the day, the #BringTheNoise rally, began at 12 p.m., crowds of mostly women carried placards and banners sporting a variety of messages, each more irreverent than the last. "SUPER CALLOUS FRAGILE RACIST SEXIST LYING POTUS," blared one. "HANDS OFF DONALD," read another, the words superimposed over a picture of Queen Elizabeth with a red cross over her lower half. One more polite sign, painstakingly crafted on pale-blue paper with floral appliqués and Liberty-print lettering, read "NASTY ENGLISH LADIES AGAINST TRUMP'S MISOGYNY, RACISM, HOMOPHOBIA, ABLEISM, TRANSPHOBIA, ISLAMOPHOBIA."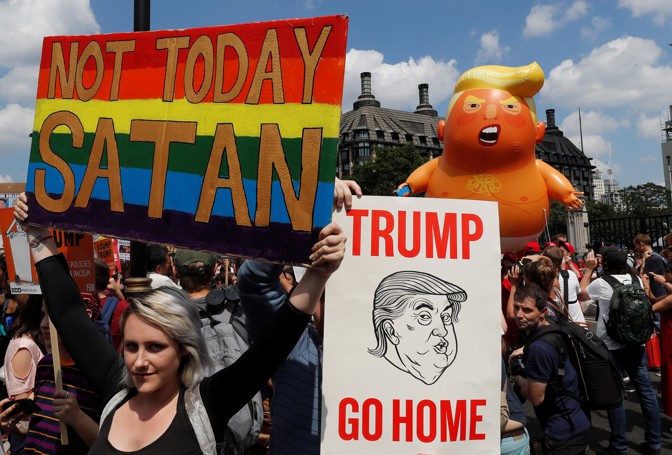 As far as pastimes go, there are few things that thrill the British more than the art of creative profanity. It's a tradition that dates back at least to Shakespeare. So Trump's visit to the U.K. presented the opportunity for many to protest, but also to exercise a little national pride while doing so. Kate Bottley, a vicar who wore her clerical collar on the march, carried a sign that read "I CAME HERE TO DRINK TEA AND FIGHT FASCISM AND I'VE JUST FINISHED MY TEA." The slogan was a reference to a quote from the British sitcom The I.T. Crowd, she said, but also an attempt to keep things dignified. "You know that things are bad when the clergy are getting grumpy about it," she said. "But one of the things that's amazing about today is how peaceful it is. There's a lovely, celebratory atmosphere. It's really brought people together."
As the earlier women's march moved down Regent Street toward Trafalgar Square, protestors began gathering for the day's main event, a larger and more charged assembly of people. The tone, though, remained jovial. One marcher dragged along a speaker blasting the Sex Pistols' "God Save the Queen." Among protestors marching for Palestine and a group of women dressed in red gowns and white bonnets as a nod to The Handmaid's Tale, a man carried a sign saying, "GO HOME YOU RACIST COCKWOMBLE." A group of a dozen people in green gowns with white sashes pulled a display case inside of which was a wax model of Oprah Winfrey wearing a campaign rosette. "OPRAH FOR PRESIDENT 2020," the case read, and in smaller letters, "IN CASE OF EMERGENCY, BREAK GLASS."
For many Britons, the march's timing offered an opportunity for catharsis. Britain is currently in the middle of a government crisis involving Prime Minister Theresa May's negotiations for the nation's exit from the European Union (a crisis exacerbated by President Trump's Thursday interview with The Sun, in which he criticized May and declared that the former foreign minister Boris Johnson would make a great prime minister).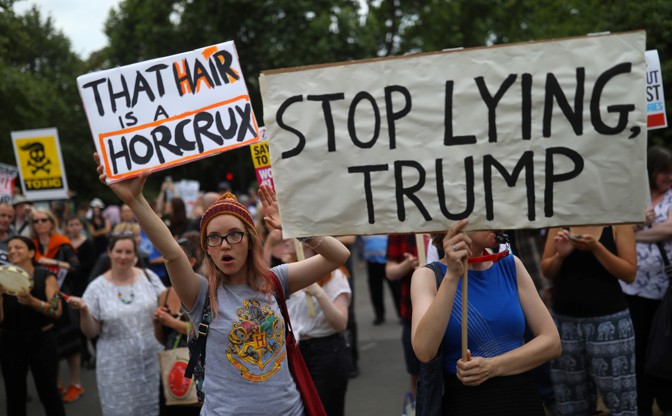 On Wednesday night, the English soccer team was beaten by Croatia in the semi-finals of the World Cup. But the team's performance seemed to have inspired a greater sense of national pride than usual. One marcher, David Savage, wore a rainbow-colored waistcoat in honor of the England manager Gareth Southgate, and a jester cap, in honor of Trump. "It seemed appropriate," he said. "It all adds to the gaiety of the occasion." While Savage said he was marching because he was furious about the Trump administration's detainment of children at the U.S. border, he was cheered by how many people had gathered in London, and by the spirit of the day. "I'm not into twittering and tweeting," he said, "so it's nice to actually be with other people who all feel the same way."
The fact that the marches coincided with British summer vacation also meant that in many cases, it was a family affair. A young girl with red hair wearing a sombrero carried a sign saying "STOP BEING AN IDIOT" in red and blue letters. Leila Faris, a teenager marching with her mother, said the goal of the day in her mind was to ridicule President Trump as much as possible. Most marchers appeared to agree. "SOD OFF," one poster read, succinctly.
That said, a handful had their own agendas to push. Sheila Birkin's protest sign read "BADGERS SAY NO TO TRUMP," complete with a picture of a badger. "It's because I am a badger supporter, and badgers are under threat," she said. "And I feel very strongly that everything Mr. Trump does is putting them more under threat. I feel that we have an affinity with those who are attacked and oppressed, so that's why I'm here."
Badgers aside, Birkin—who was marching with her daughter and her grandson—seemed to have the same goal as everyone else who'd assembled in the uncharacteristic London heat. "I hope that Mr. Trump gets the message that we in Britain are not prepared to just let a fascist person come along," she said. "I'm marching here with my daughter and my grandson, and I want them to remember that we did stand up."
Source: technology